As the Comcast Tower nears completion and cranes populate Center City and beyond, we ask.. What's next to wow our blooming skyline?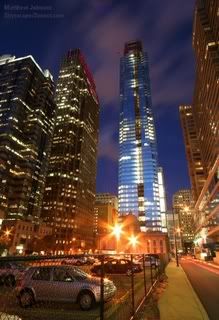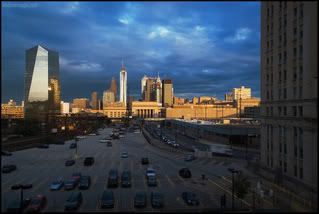 [Comcast Tower, 2007, 975Ft]
Is that a skyline Philadelphia, or are you just happy to see me?
Even in a national housing bust, Philly shows surprising resilience and without skipping a step it seems, continues to roll out it's plans for a bigger, better city. One reason we're holding so strong, Philly has been so undervalued and underdeveloped for so long. Our population has been growing steadily, especially in Center City. And if this week's
Rolling Stone
is any measure, Philly was named their "2007 Hot Scene", the trend is expected to stay. Simply put, we're really just playing a game of catch-up.

In recent years we've witnessed some exciting buildings go up..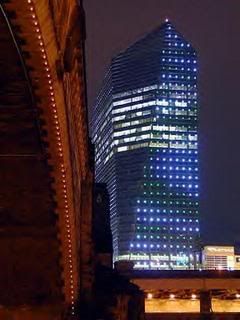 Cira Centre, 2005, 437Ft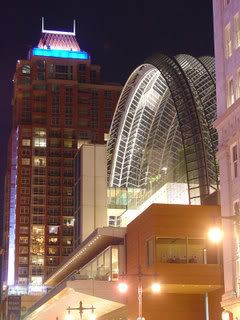 Symphony House, 2007, 375Ft
And.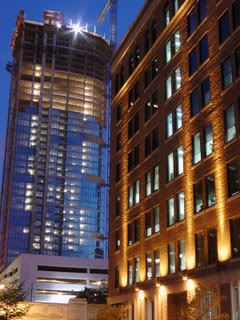 Murano, 2007, 475Ft
To name a few.
And the future will continue much the same. There are literally dozens of projects proposed, approved to be built, or already under construction. Here are some of the more interesting of the bunch.
Our Future...
Cira South (Approved), 2012, 40-50 stories
The latest in the, "We're Upenn, look how much money we have.. No really, look. We're better than you.. a lot better. And we probably read more." Fuck you Upenn. Although, this complex is legit pretty cool. The 14-acre Cira South project, which includes a 40 to 50 story office tower on Walnut Street and a 25 to 30 story residential tower on Chestnut Street will expand the skyline even more west west than it's sister Cira Centre. Creating a corridor of skyscrapers along the Schuylkill , much like the Chicago river corridor. It also includes plans for a pedestrian bridge to connect University City and Center City.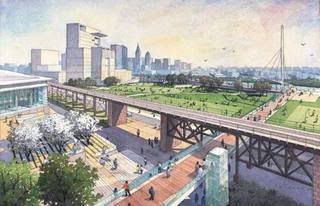 Next,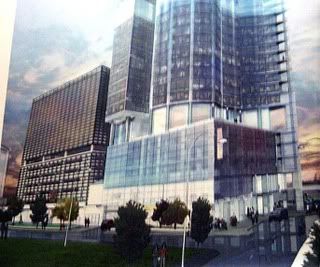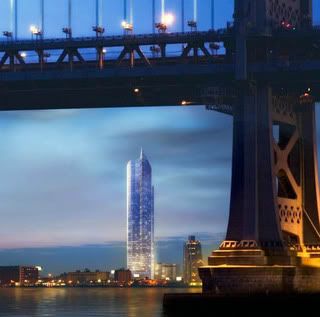 Bridgman's View Tower (Approved), 2010, 915Ft
There's no doubt about it, BV would dramatically change the skyline. Imagine a building as tall as Liberty One, on the Delaware river. BV is now being discussed in community meetings in NoLibs and Fishtown and may be resized, turned into two 400ft buildings. I, personally, would love to see our skyline stretched east. With so much focus on the Casi-Nos, this project may slip past its obstructers and be built in full. Either way, you will definitely be hearing more about this tower.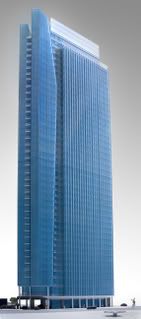 The Residence at the Ritz-Carlton (Under Construction), 2008, 518Ft
On the site where One Meridian Plaza's fiery corpse sat for years, right around City Hall. Residence is well under construction and will be up next year. Amenities offered are the same as the hotel, everything you get in a hotel, including 24 hour food services.. just imagine. This is actually a pretty progressive idea for Philadelphia. There aren't many places in America like it.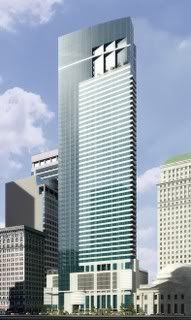 1441 Chestnut Street (Approved), 2009, 670Ft
Planned to sit in the lot right next to Residence and built at the same time. 1441 and Residence were in heated court debates over construction dates until, out of court, the two building owners came to a truce. Residence would start construction first with 1441 starting 6 months later. (I guess two skyscrapers can't go up next to each other at once. There's some poetry in there..) Well, 6 months came and went. It looks like 1441 may be worried that it will be more than just physically behind Residence and this space may stay a parking lot. We hope not.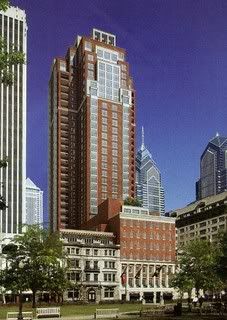 10 Rittenhouse (Under Construction), 2008, 390Ft
This project has been on hold for so long, oh unions. You should finally see it start rising this year.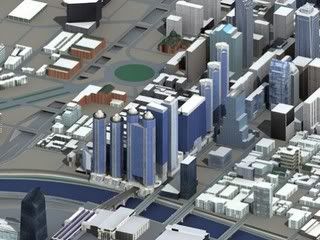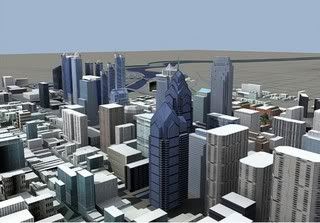 River City (Proposed)
A completely outrageous complex of 10 towers, some as tall as 75 stories, with 12 million square feet of retail, commercial and residential space. Planned to sit on the, now exposed, train tracks that lead from 30th Street Station down to Suburban Station along JFK. This probably will not get built and that's probably a good thing. However it's a shinning example of what an architecturally creative and bold era we live in.
For more information on our blooming skyline there are two sites to check out.
Phillyskyline.com
and
Emporis.com
.
Live big Philadelphia, and look up now and then, one day you might see something like this...

Written by Conrad Benner