Meet Jacci Stallone... One of my friends, one of the best dressers I know and the owner of Gutter Fairy Vintage.
Conrad: How did Gutter Fairy start?

Jacci: It officially started about 2 years ago. Another Ebay vintage store added me through myspace, and I was just like why did I not think of that first? I used to have my ex-boyfriend take pictures of me modeling the clothes, which usually ended up in a big fight, so it got out to a rather slow start. Also, I originally thought it would be a lot easier than it is. There is a lot of work behind having an ebay store and its difficult if you're also working a full time job and doing a lot of partying. I do have some help now from my beautiful models Alexis, and Kate. Hopefully soon I will also be working with local photographers such as Vincent from Stay Local, Paul from Philthy.us, and my friend Isaac from uhhhh West Philly, to make the shoots more professional looking. Now that I am a grown ass woman of 24, I feel I need to simmer down a little and be more serious about all of this.



C: Where do you find the clothes? (without giving any of your secrets away.) How many things are you selling right now?

J: I can't tell you where I shop, but I find all my clothes at thrift/secondhand stores for the most part. Also, many are from my own closet...things that I have worn once and can not be seen in again. Other items have been donated by friends. As they say, one man's junk is another man's treasure...right? I try to put up about 20 new items at a time. Hopefully soon I will become incredibly consistent with this and do it once a week. Like clockwork.


C: How would you describe your personal style and how does that effect what you sell? (For example, do you only sell stuff you'd wear?)

J: I don't really think I can describe my style. I feel like people try to label it a lot, or tell me "oh you look like ______(insert any famous female with black hair or bangs)"...most of the time I look nothing like these people. I wear whatever suits the mood I'm in, and this definitely changes A LOT. As for what I sell, I definitely gravitate towards things that I would wear, but then again, I would wear almost anything as long as I can make it work. I do try to cater to all different styles. For example I'm not too boho myself, but I know girls are going crazy for those poncho sweater capes, so finding them is like finding gold. I love to find gold.


C: Any plans to open a shop?

J: I would love to one day have my own shop. That has always been my true dream. I'm not really in a position to do that right now, but maybe one day.


C: What are a couple of your favorite items you're selling right now and why?

J: Hmm right now...well I'm always partial to biker style leather jackets, and there is one for sale right now. Also I like that tan quilted bomber jacket. It's so retro and 70's. But that red dashiki is my favorite. I love dashikis and would probably be happy wearing one everyday for some reason. I'll wear them with bamboo hoop earrings, I don't give a fuck! Oh and that little suitcase?! It says Cairo on one side, and Linda on the other side and is hand painted. So weird. Anyone named Linda out there? This purse got your name on it yo! Literally.

C: If you went shopping in Philly tomorrow what would be the first 3 shops your hit up?

J: Well seeing as I pretty much only shop at thrift stores (for Gutter Fairy and for myself), I will not reveal what they are because I am a very selfish person. Haha. I feel that style and shopping in Philly is very limited. Even more so in the recent years. South St. isn't even worth walking down, but I would stop at Retrospect. I always find something there. Hmmm and then I would probably go to Sweet Jane Vintage (which isn't even open yet), but my friend Jen is the owner and we have the same views when it comes to fashion, music, etc. so I know I would definitely not walk out empty handed. My third choice would be the beauty supply store on 7th and Chestnut. They have everything! You can buy huge cheap earrings, a new weave, crazy tights, and a du rag all at once!!!


C: Ok, let's play a game. I'll name some fashion trends I've seen in Philly. I'll say what I think about them and you, as the expert, give us your opinion too.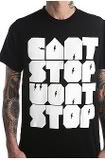 1. Those long tees that have big words on them like 'CAN'T STOP, WON'T STOP?'

Conrad: I still like these. Although I tried one on at Urban once and it fit me weird.
Jacci: I don't hate on these...The only reason I wouldn't wear one is for the fear of running into someone else wearing the same thing. That is one of my worst fears, besides getting tangled up in a blind man's cane on the street, and eating rice.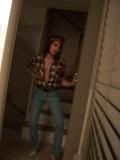 2. High wasted pants?

Conrad: Love them. I have a pair that was apart of my Halloween 'Sunny and Cher' costume that I like so much I gonna start wearing out.
Jacci: Yes you looked cute in those pants. I want a high waisted pair of bell bottoms real bad. Kyle helped me the perfect pair of vintage Wrangler bell bottoms at Retrospect, but when I got them home I couldn't even fit them over my huge ass. So sad. Maybe you will see them on Gutter Fairy soon, if anyone's small enough to fit into them!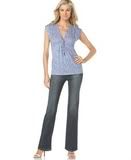 3. Girls in boot cut pants and high heels?

Conrad: I hate this so much. It reminds me of being on a boat... like a navy boat or something.
Jacci: The only good thing about this look is...nothing. It reminds me vomiting chocolate rain...and not in a good way.
Check out Gutter Fairy Vintage's Ebay store or add on Myspace.
Written by Conrad Benner, Photos by Jacci Stallone