Philadelphia's latest black eye... Well, actually less like a black eye and more like four bloody gun shot wounds.
(Officer Mario Santiago, shot once in the shoulder by suspect at 22nd and Sansom Streets)

Four shot in total; Including a police officer, at least two in critical condition.

Everyone living, working, and playing in Center City last night (Tuesday) were apart of the commotion. Cop cars by the dozens flying up every street; Chestnut, Sansom and Walnut mostly, all heading west.

It was around 10pm, I was working at my gelato shop on the corner of 20th and Sansom when I noticed a police car, then one more, then three more. People standing at the intersection started to fix there gaze westward. Police cars and vans are now flying up Sansom in groups, I think I counted 46 total by the time I saw the last one. [Actual accounts are much more staggering, check it, over 100 Police officers and Marine units were called to the scene. Damn.]

I walked outside, instantly rumors filled the air. (It is Philly.) A couple of Comcast employees were working on a new cable line when I reached the corner. They say they've heard some gun shots. A young man and his girlfriend walked up and say they hear that protesters are being maced by the hundreds at the Democratic debates in West Philly. Briefly, the theory of an explosive was spread around.

I just hoped Hillary was unharmed.. She's my girl.. Fuck off.

Then I heard of shootings around 15th and Sansom by some friends that texted me. That's when things got wired. Two shootings in Center City in less then an hour?!?

At this point Ambulances and Police vehicles are going in every direction. As described by my cab driver later that night, "Shit was apocalyptic." The cabbie was also nice enough to let me know that the gunman had jumped into the Skuykill and the Coast Guard had come with snippers to find him. (Information the previous rider had left him.)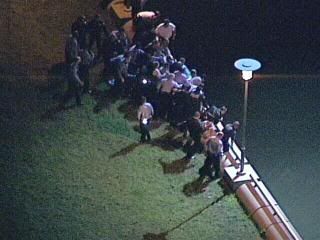 At that point I was all, "old news, 15th and South, please." Truth was, I knew I was gonna Google all this shit later. It was 12 midnight and time to get drunk. Like every other night, I'll deal with reality in the morning, at least I tell myself.

Also, Bob and Barbara's is the shit to have fun at on Tuesdays, in case you were out of the loop.

Fact is: I had 4 or 5 specials at BB's and had a good night. But from 10-12 it was a free for all in CC. Everyone was calling there friends, people on the streets were starting rumors (at one point I was under the impression that there had been at least four separate shootings in CC.) Shit was crazy.
Truth is: The gunman shot 3 people in a car at 15th and Sansom for an unknown reason. He ran up Sansom, chased by
Officer Santiago and got into an altercation at 22nd street and was shot by the gunman. Who continued his Sansom Street run west to the river where he jumped in and is still in
pursuit.

Point is: Crime in our city is out of control. Especially with the guns. We need to stop asking our next mayor what is his plan is to fix it, and start demanding our current mayor to address it. (Um, I guess we should still ask our next mayor what his plan is, but you know what I mean.)

How do we stop the violence? Email Ugh your opinions and comments on this 'shootings' shit to ughnews@gmail.com

For more information and videos of this breaking news story check out CBS3.
Written by Conrad Benner